With the rise in popularity of radio in the 1920's came the rapid plummet in sales of vinyl across America. Larger record companies like Columbia Records were forced to take drastic action in order to remain relevant.
Thus, the Western Electric System was born, a genius feat of mechanical engineering which allowed agents to head into the South and record talented, unknown artists for the very first time. It undeniably revolutionised the American music industry forever - exposing the country to the wonders of blues, country, Cajun and Hawaiian music.
In a true labour of love that took over ten years to complete, engineer Nick Bergh recreated this incredible and unique machine from parts old and new, with Jack White and T Bone Burnett gathering the likes of Elton John, Nas, Willie Nelson and Taj Mahal to battle with the unforgiving machine.
Operating around a weight and pully system which controls the mechanisms of the recording device, the length it takes the weight to reach the floor is a maximum of three and a half minutes, forcing artists to nail the perfect song in a single, uninterrupted take. "That's why you have that particular length for pop songs to this day," the director tells me.
Speaking from Santa Monica, American Epic Sessions' director Bernard MacMahon takes a break from mixing and colouring the four part series about the American industry's evolution throughout the 1900's, jumping on the phone to speak with me about this truly one of a kind music documentary.
"The machine demands you to give an olympic level performance. You can't re-do anything. You have to give the performance of your life to sound good on this thing."
This need for greatness within that three minute take is captured perfectly in the film, moments of silence before a blue light indicates "go" seeping with nail-biting tension and atmosphere. In every case, the results are astounding and the artists always deliver.
Watch the trailer for American Epic Sessions below
"All of the performances are filmed in one take, with a continuous dolly camera moving around the artists," an enthusiastic MacMahon explains. When you watch, this cinematic choice feels absolutely perfect, the lack of cuts capturing the immediacy of the song and reflecting the fact that the musicians have no choice to cut and start again either. Oh, and the sound...
Wonderfully visceral, raw and untampered with, every original recording is layered with character and charisma that often disappears from an artists vocals or instruments' sound after the hundredth and seventh, mind numbing take. From Taj Mahal's deep and powerful rasps on 'The Water's Rising' to the gentle and sweet serenades of country singer Ashley Monroe with 'I Came Out A Rose', the beautifully complex machine always manages to draw the very best from its chosen subject. MacMahon describes this magic moment as capturing "lightning in a bottle."
Holding the majority of these performances together is none other than Jack White, a musician enamored with the technology who learns its nooks and crannies inside out, using his knowledge to guide bemused musicians through this unique recording process.
"This was Jack in his ultimate element," he remembers. "He was terrific at arranging songs, working with artists and getting the best performances. He seems to operate in his ultimate element when everything has to be done with a gun to your head. Everything was arranged completely on the spot every time in three or four hour recording windows."
The film also reveals one of Mr White's hidden talents when the strap carrying the machine's weight snaps and brings it crashing to the ground, Jack rushing to a local upholstery store in an amusing moment, borrowing a sewing machine and repairing it himself.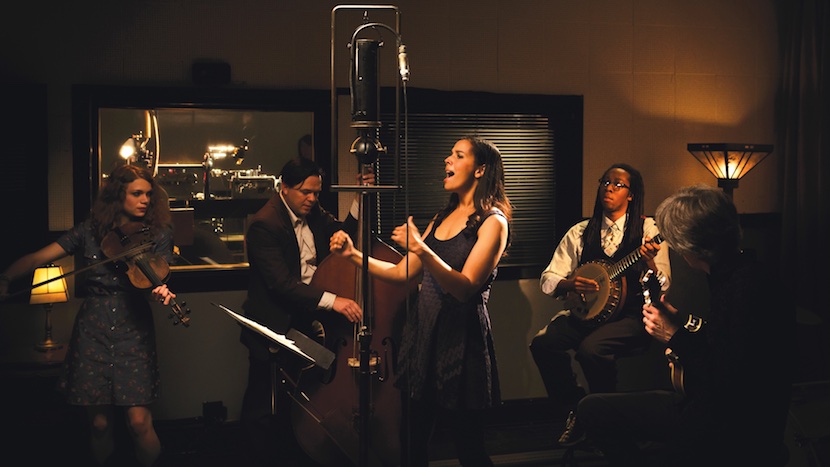 Littered with incredibly unique and unforgettable performances throughout its running time, MacMahon explains that it's practically impossible to pick his favourite(s). "When people are performing at that level, it's past differentiating between levels of quality."
I understand, so I'll try my best to do it for him.
Particular highlights are Elton John and Jack White's collaboration for 'Two Fingers Of Whiskey', as much for the song itself as the footage of the two arranging and tweaking it playfully with the help of T Bone Burnett. Taj Mahal also unleashes a storming performance of 'The Water's Rising', leaving you in a state of awe when the weight finally reaches the ground.
More than just an excuse to gather a swarm of talented artists in one L.A studio and have them cover old songs, American Epic Sessions is an important historical document. Handled with wonderful care, romanticism and respect for the technology and the incredible talent it facilitated, the film is a viewing experience like no other and should be sought out by music fans of all tasted and ages.
And where is the incredible machine now? We hope it hasn't been dismantled and sold for parts? "It's in Los Angeles at the moment, MacMahon thankfully tells us, "and we plan to tour it around and open it up to other artists." We can't wait to hear more.
Find out more about American Epic Sessions here.